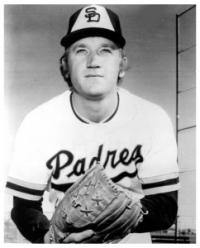 Inducted in 1996, Randy Jones, a fast working left hander with an outstanding sinker and pinpoint control, wsa the first San Diego Padres pitcher to win the Cy Young Award.
An All-American at Chapman College, he went 20-12 with a National League leading 2.24 earned run average in 1975. In 1976, he was 22-14 with 2.74 ERA, running away with Cy Young as the national League's best pitcher. Randy led the league in victories, complete games (20) and innings pitched (315 1/3), and tied Christy Mathewson's 1913 record of 68 consecurtive innings without issuing a walk.
An all time fan favorite, he received standing ovations when he walked out to warm up. The Padres retired his uniform, No. 35, in 1997.