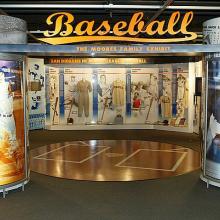 The San Diego Hall of Champions is the nation's largest multi-sport museum, boasting three levels of memorabilia and 68,000 square feet. The museum offers a state-of-the-art theatre, an interactive media center and fascinating displays on the nation's favorite sports
Located in the historic Federal Building in Balboa Park since 1999. Within its historic walls learn about San Diego's rich sports history. Exhibits cover high school to pro sports from traditional sports of baseball and football to exhibits for Bass Fishing Hall of Fame, Surfing Legends, Action Sports and Challenged Athletes.
History
The Federal Building is the third home for the Hall of Champions. In 1959, Robert Breitbard arranged for space in Balboa Park and established the Hall of Champions as a non-profit sports museum. The first home opened in 1961 in the House of Charm at the southwest corner of the park.
The second Balboa Park home for the Hall of Champions was Casas de Balboa when it opened in 1983. But San Diego's sports history soon outgrew the facility, prompting a move to its grandest home when refurbishing of the historic Federal Building was completed in 1999.
Video below is somewhat dated as exhibits have changed since it was aired, but nevertheless showcases how it all began due to the hard work of Mr. Breitbard.