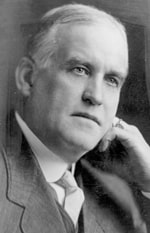 Inducted in 1990. Charles Fletcher set a U.S. and unofficial world record in the 200 meter and 220 yard breaststroke at Coronado in 1923 with a time of 3:03 1/5.
He later bettered that by 2.8 seconds, but absent an official timer, the mark was not recognized.
A San Diego High School graduate, Fletch captained the national champion Stanford Water Polo Team in 1924 and was selected to the All-American swim team in 1922, 1923, and 1924.
Studies at Oxford University precluded his competing in the 1924 Olympics. Part of a pioneer San Diego family, Fletcher founded Home Federal Savings and Loan in 1934 and was elected to Congress in 1946.