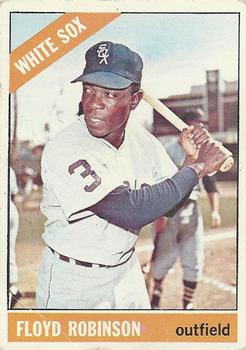 Inducted 2009, Baseball.
Mr. Robinson's Neighborhood first took root shortly before World War II in Logan Heights, not far from where PETCO Park stands today.
George Robinson owned an auto repair shop at 16th and Imperial and was known as a trusted friend you could see for advice and help. Robinson, who lived until he was 94, also raised a son who grew increasingly well known in the neighborhood and beyond.
Floyd Robinson was a sports legend at San Diego High. In 1954, he turned down a football scholarship to the University of Arizona as a quarterback and instead started his minor league baseball career.
He would eventually play for the then minor league San Diego Padres in the city's first downtown ballpark, Lane Field, and set a fielding record for outfielders. He won a Silver Glove from Rawlings, an award for minor league players that was the equivalent of a Gold Glove for Major Leaguers.
Later, Robinson, a line-drive hitter, developed into a one of the top hitters in the American League in the early 1960s with the Chicago White Sox. Robinson batted .312 in 1962, second to batting champion Pete Runnels, when the composite league average was .255.
"I could hit," Robinson said. "I feared no one."